Our wines will delight you

and yours, and WE SHIP!

Click here to shop online!
Taste a wonderful selection of wines created from estate-grown grapes and other Wisconsin fruits. Our portfolio includes wines for every palate ranging from dry, oak-aged reds and crisp whites to sweeter, fruity whites, a blush, and rich dessert wine treats.
Rich, wonderful reds
Branches Reserve 2016

The Marquette grape, perfectly dry and wonderfully aged in oak barrels
Carmenere

Dating back to ancient vineyards in Bordeaux, this grape still delights with red fruit, spice, and smoky notes presented in a slightly oaked dry style


Driftless
Introduced in summer, 2017, this medium-bodied dry red features our vineyard's St. Croix grapes at their best.  A little smoky, a little oak - all aromas dancing with the dried currant flavors.

Explorer - Marquette

The king of the cold-climate grapes, here we present Marquette at its fruity, gentle, off-dry best

Great River Dessert Wine
A blend of cold climate grapes dance together in this port-style wine chokked full of dark cherry and caramel notes
Delicious semi-sweet fruit-forward stars

Coulee Crisp

The LaCrescent grape's citrus and pineapple flavors burst in this off-dry winner
Viognier 

This internationally loved grape bursts with floral, peach, and pear aromas, all previewing the flavors in this dry white

Happiness

The St. Pepin grape wows in this dry white; wonderful flavor, lightly oaked, kissed with vanilla. Plan to be surprised.

Vine Dance

An Edelweiss charmer; semi-sweet, gentle white reminiscent of German Rieslings
Flying Geese

The Frontenac Gris grape delivers unique strawberry and melon flavors in this very popular blush


Old Stone House
The newer Frontenac Blanc grape dances in this semi-sweet, fruity yet crisp new wine

Sweethearts, these are for you!
Moxie Moscato

NOW  ALSO IN CANS
Today's darling grape delights the senses with stone fruit and honey flavors kissed with tropical notes.

Roxie Rose'

NOW  ALSO IN CANS
Thought to be the first true American wine grape, Catawba Rosa features a much-loved fruity flavor. 

Coulee Fog

Vineyard neighbors LaCrescent and
St. Pepin grapes are artfully blended in this tropically delicious  treat
Francesca 

The wonderful fruitiness of the Marquette grape shines in this sweeter, chilled rose' style wine
Let me call you Sweetheart
Yes, we will serenade you with this darling song as you sip this sweet rendition of Edelweiss wine
Celebration Berry 
Straight from a Wisconsin bog, this pure cranberry wine is both sweet and tart; perfectly pleasing for holiday dinners and every celebration of the year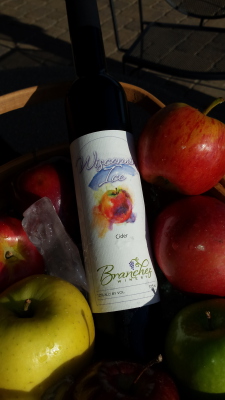 In a league of their own

We are proud to be one of the first wineries in the Midwest to produce two unique wines using the French-Canadian practice of using winter's frigid temperatures to naturally freeze and thaw  apple cider, concentrating its flavor to its luscious best. Local cider from Gays Mills has never felt so fancy or tasted so delicious.

Wisconsin Ice Cider -SOLD OUT till Spring 19                                                

Dessert Wine Treat Extraordinaire                           
Pure apple essence, a flavor which you                         
have never before enjoyed!  For your
dessert course surprise, serve with nuts
and aged parmesan or asiago. 

Frozen Apple Blossom
Delicate cider flavor kissed with
Wisconsin cranberry. Fabulous with
Wisconsin aged cheddar cheese.